Bitcoin tumbled below $10,000, bringing its loss to more than 50 percent from a record set only a month ago, as increased scrutiny from regulators around the world weighs on the digital-coin craze.
The largest cryptocurrency tumbled as much as 14 percent to $9,186, before recouping most of the losses, according to consolidated pricing data collated by Bloomberg. Bitcoin has fallen from a record $19,511 reached Dec. 18, and seen more than $140 billion shaved off its market value. It last traded below $10,000 on Dec. 1.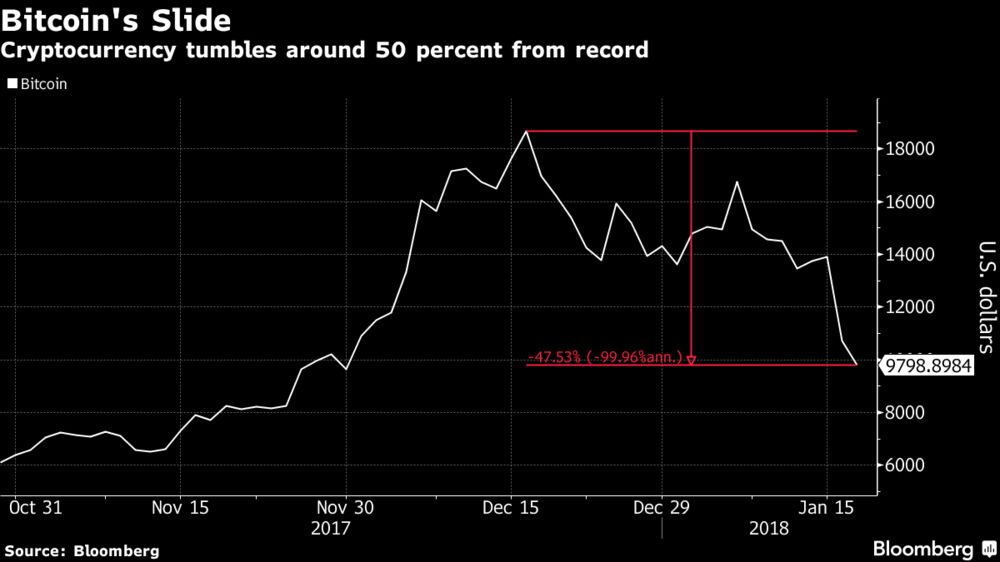 The selloff this week, triggered by concern regulators are about to tighten their graps of the market, brings more trauma to a digital-coin market that has lost more than $300 billion in value just since Jan. 13. After a dizzying rally pushed Bitcoin higher by 1,400 percent last year, the latest plunge cast doubt on the viability of cryptocurrencies and the blockchain technology that underpins it.
"Bitcoin was overbought and sentiment was ecstatic," said Ari Paul, chief investment officer of BlockTower Capital Advisors. "This is an overdue correction triggered by South Korean regulation fears."
For more Bitcoin news:
Did Bitcoin Just Burst? How It Compares to History's Biggest Bubbles
Bitcoin Resilience Tested as Traders Ponder What May Pop Bubble
Bitcoin Fall Extends to 25% as Fears of Crypto Crackdown Linger
BitConnect Closes Exchange as States Warn of Unregulated Sales
The most recent signs of a regulatory clampdown have come out of Asia, a hotbed of bitcoin trading. In South Korea, regulators warned they may shut down cryptocurrency exchanges completely after limiting their operations, while China is said to have intensified its curbs on trading of the digital coins, extending restrictions to over-the-counter and peer-to-peer platforms after banning exchanges last year. In the U.S., the Securities and Exchange Commission asked at least 15 funds to pull applications this month for bitcoin-related exchange-traded funds.
That's left speculators across the globe struggling to determine when or how market watchdogs may rein in an industry that is decentralized and derives much of its value from anonymous ownership.
"We get sell offs like this fairly regularly. I think this one is more pronounced and press-worthy since it is affecting more people and the dollars at stake are greater," said Joe Van Hecke, managing partner at Chicago-based Grace Hall Trading LLC. "It's a great time to evaluate which of these coins have staying power, actually have utility going forward, and invest in those."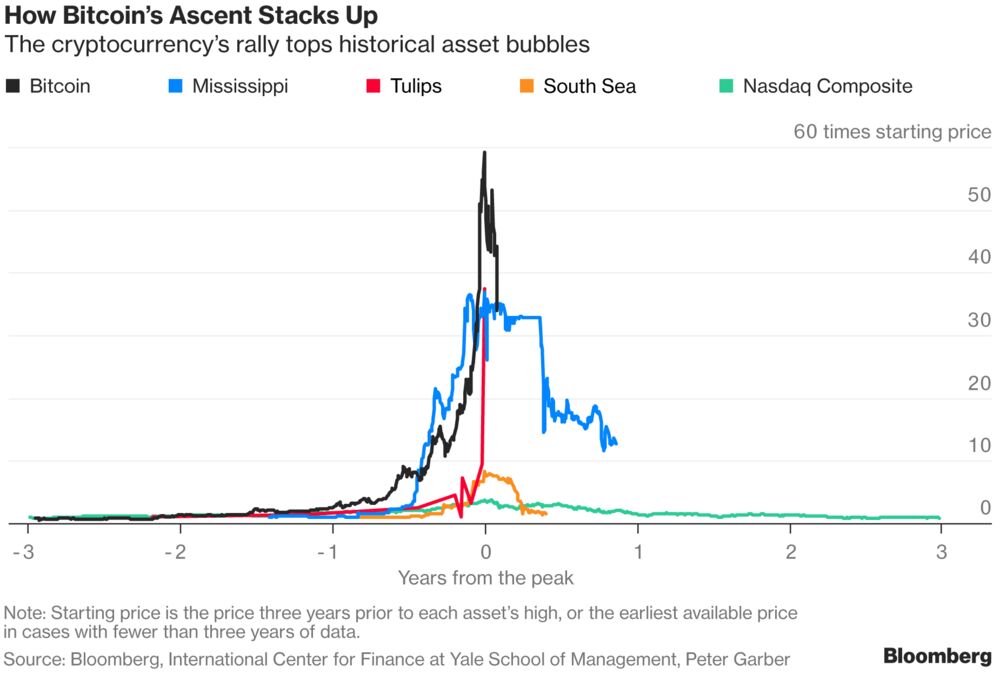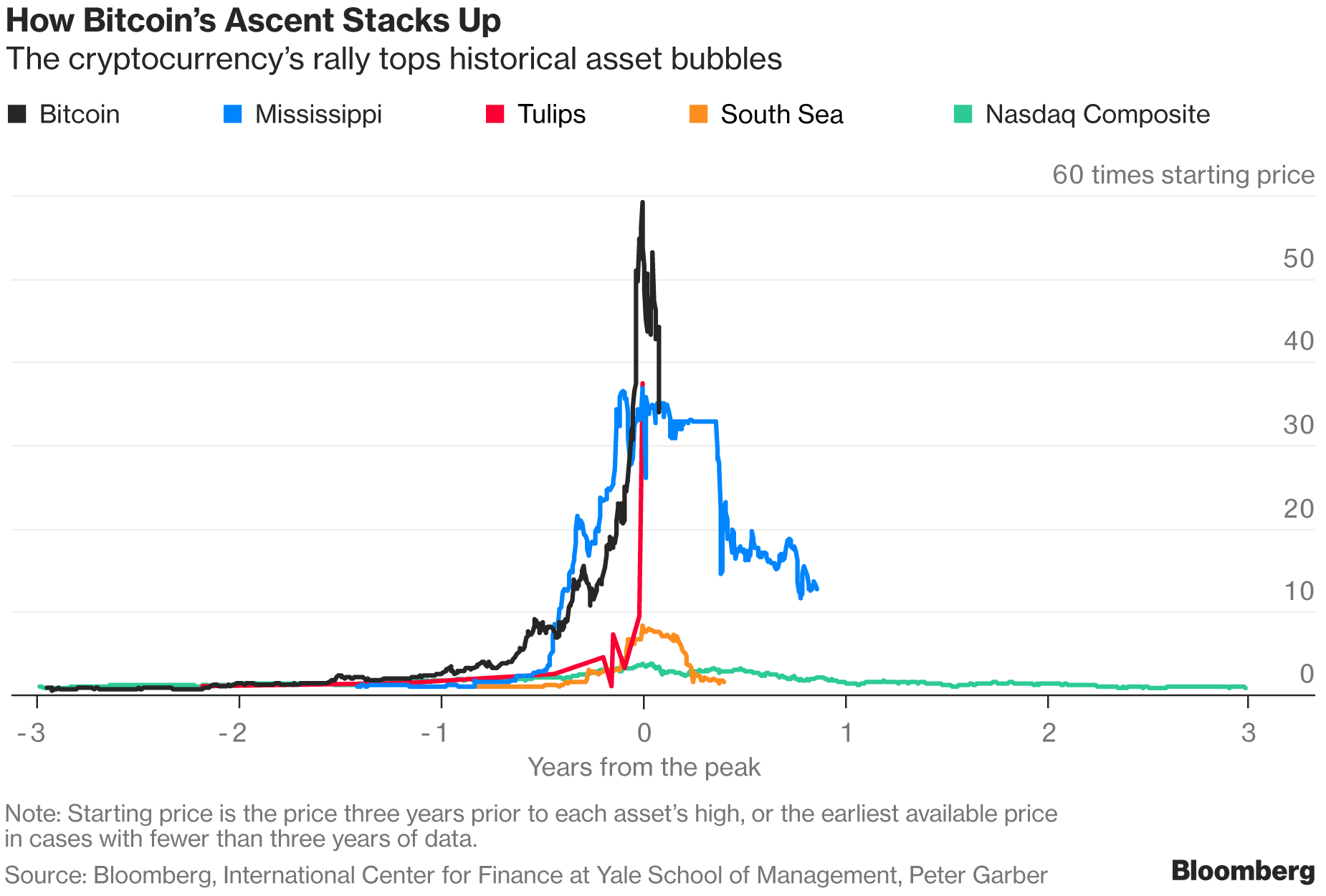 Souring the mood in the market, cryptocurrency exchange Bitconnect said it's shutting down after receiving two cease-and-desist letters from state authorities for the unauthorized sale of securities and suffering from denial-of-service attacks, while one of the biggest trading platforms, Kraken, was offline for over a day last week as a scheduled update went awry.
In addition, some are blaming part of the rout on the Lunar New Year, as Asian traders cash out their cryptocurrencies to travel and buy gifts for the holiday that starts Feb. 16 this year.
The sell-off has been amid relatively high trading volume, with around 400,000 bitcoin exchanging hands on Jan. 15, the highest since Dec. 21, according to the latest data on Bitcoinity.org.
It wasn't supposed to happen that way. When bitcoin futures started trading last month on CME Group Inc. and Cboe Global Markets Inc. exchanges, it triggered speculation that there would soon be a range of crypto ETF and mutual fund offerings. That in turn would draw hordes of new investors and lift bitcoin even higher.
Origin: https://www.bloomberg.com/news/articles/2018-01-17/bitcoin-steadies-from-26-slump-as-traders-brave-volatility